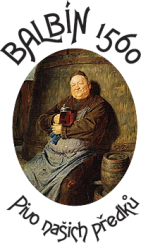 Do you know how the beer tasted in the 16th century?
You probably think it's completely different than the beer you know today. And you're right.
That's why we wanted to try out what beer our ancestors consumed with such taste. And you have the opportunity now too...
Balbín
Beer of our ancestors

We brew beer for you according to 16th century recipes. We used the ingredients and the manufacturing processes, as our ancestors used centuries ago (unblese malt with sprouts, wild hops, juniper, a little salt, wild yeast). And if you want to taste the beer in the form that our ancestors drank in the 16th century, then come to our restaurant U Balbínů, Jungmannova 22.
Every day we open the barrel of this medieval mok.
Reservation: +420 226 804 980
Many breweries like to boast of brewing beer from the 16th, 17th or 18th centuries.
But just for you, we brew the identical beer drunk by our ancestors nearly 400 years ago.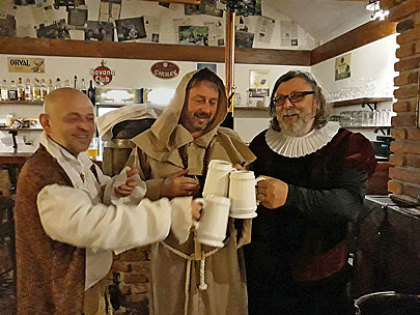 How is it possible?
We cooked it with the raw materials that were available at that time and exactly according to the old recipes and production methods used by centuries old Czechs and Moravians.
And therefore: Only our beer is the first and only beer for the public in the world, which tastes really the way the beer tasted in the 16th century.
How did we achieve this?
Beer we roasted with unqualified "wild" yeasts on top fermentation. The noble yeast Sacharomyces Carlsbergensis, which are used today in the world and used to produce most Pilsen type beers, were isolated in the Danish Carlsberg Brewery until 1883.
We did not use the water from the creek or from the well, but from the water supply and we left it for a good time.
Of course, this noble beer matured in oak barrels we bury from these barrels.
Now, let's just invite you.

Return to the 16th century and taste the beer that our ancestors enjoyed.
Every day after 19:00 in the "U Balbínů" restaurant, Jungmannova 22, we open the barrel of this truly unique Renaissance beer.